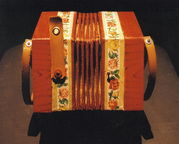 SONGS for the LITTLE LADY.

This little instrument was bought in a music shop in Totnes, Devon, UK. in 1980, to be used as a prop. (aka 'The Little Lady') in an experimental interactive performance activity convened by Canadian dancer/choreographer Mary Fulkerson, and titled 'The Little Theatre'.
Long after I returned to Christchurch (with the concertina languishing in my studio) a series of events
saw me learning to play her, and then making a work around our relationship.
How was I to know her reputation as a ventriloquist was world wide!
SONGS for the LITTLE LADY.