STRING QUARTET.

As a young junior lecturer in the School of Music, University of Canterbury in the late 1960's / early 1970's, one of my tasks was to stage manage the series of resident string quartets passing through the department at that time.
This involved being present in the green room while they warmed up for concerts. These were European quartets......The Prague, The Czech, The New Prague, and later English (Alberni) and American (Alard).
Most impressive was the warm, full, expressionistic sound of the
Prague, particularly when the players 'let go' during their warm up, each pratising the most difficult passages independently. It was this experience that prompted me to compose the quartet, followed by the thought that these players might perform it! However their innate conservatism made this a forlorn hope.
The performance here
is a 'read through' by the Alard Quartet many years after the work was finished.
Here are the programme notes prepared for the
score (Published by Promethean Editions in 2004).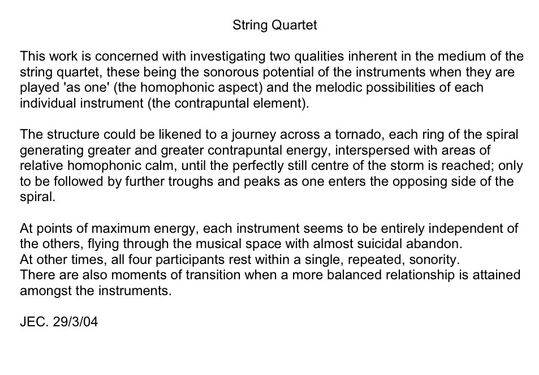 STRING QUARTET.